Scottville Senior Center Closed Temporarily
External services resuming
Due to concern about people gathering during this period of heightened health awareness, Scottville Senior Center will be closed as a public gathering place until further notice.
We cannot be certain when we'll be able to reopen, but it will be as soon as possible, consistent with medical advice.
Phone lines still open
There will still be staff on site at the senior center, to help in whatever way we can by phone. Please call 231-757-4705.
Web site updates
Please check our web site: https://scottvilleareaseniorcenter.com/ for news during our closure—and a reopening announcement.
In-home services begin to open up
In-home homemaker and respite services were temporarily suspended, as many of our clients requested that we not come to their homes because of the virus. Some clients have recently requested that our aides return to provide these services in their homes. We are doing so, but with careful precautions.
We're requesting that both aides and clients wear masks, observe social distancing while the work is being done, and be alert for any signs of illness. We are also seeking to arrange Coronavirus testing for our aides to enhance safety assurance.
If you are someone who asked for service to be suspended, and would now like to re-state homemaker or respite service, please call the senior center at 231-757-4705.
Medical transportation services starts again
Scottville Area Senior Center (SASC) will resume Medical Transportation service for those clients who are comfortable with and want to be transported by our volunteer drivers.
Due to the dangerous nature of the current pandemic and the particular vulnerability of the senior population we serve, these services are dependent on both drivers and clients following these safety precautions and guidelines.
Social Distancing and Physical Assistance: In order to observe social distancing clients served at this time must ride in the back passenger seat of the vehicle. Clients must also be a no-person assist including the ability to enter and exit home, vehicle and appointment destination on their own.
Face coverings: Both drivers and clients will wear face shields at all times during transportation. Reusable shields will be provided by SASC.
Hand Sanitizers: SASC will provide drivers with spray bottles of hand sanitizer for their use during transportation. Spray bottles are used so drivers can offer to spray clients' hands, without having the clients touch the sanitizer bottle. Shields must be worn while spray is applied.
Wearing these face shields and observing these guidelines are key requirements for continuation of service.
Home-delivered hot lunches available to seniors
While we will not have group meals at the center until we reopen, Mason County Central Schools Food Services—which provides senior meals throughout the county—is there to help.
On request, they will temporarily add seniors, who normally have hot lunch at the senior center, to the home-delivered senior meals-on-wheels program.
Request by phone:
Senior Meals-on-Wheels Program: 231-757-4831
Senior Center: 231-757-4705
COVID-19 resources compiled by AARP
(please click the document below to enlarge)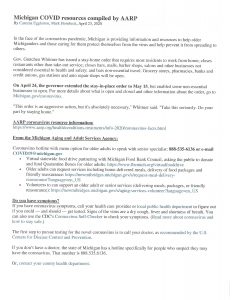 Welcome to the Scottville Area Senior Center!
The Scottville Area Senior Center is located in the heart of downtown Scottville in West Michigan. Scottville is known for its friendly atmosphere, rural beauty, and the scenic Scottville Riverside Park along the Pere Marquette River.
Encouraging Independence
The Mission of the Scottville Area Senior Center is to provide in-home services to eligible seniors throughout Mason County, and to provide a congenial place for those on the "up side" of 50 to meet, enjoy weekday lunches, receive services and participate in activities that will enhance their dignity, support their independence and encourage their involvement in and with the community. The center has been in operation since 1973 as part of Mason County Central Schools. Scottville Area Senior Center is proudly serving Mason County.
Thank you! Funds to provide services are received through:
Senior Millage, approved by Mason County voters
Area Agency on Aging of Western MI, Inc.
United Way
Private Donations
Fundraisers