SCOTTVILLE SENIOR CENTER IS PLANNING ACTIVITIES AT RIVERSIDE PARK!
Classes will take place in the pavilion at Riverside Park at 700 S. Scottville Rd, Scottville, MI.
ALL class sizes are limited to 10 participants to maintain safe social distancing.  YOU MUST sign up in advance for every activity by calling 231-757-4705.
If a class you would like to attend is full, we will place you on a wait list to attend the next available class in the order in which the requests are received.
Safe social distancing (6 ft. between people) and a face covering are MANDATORY for all scheduled activities. If you do not have a mask we can give one to you.
Opportunity will be offered at these events to fill out the census and receive a $5 gift card.
Activities (currently suspended due to SASC temporarily closing)
Bingo – Fridays 10:00am
Christmas Angel Tree Project
Crafts –Creative Crafts (check calendar for dates and times)
Day Excursions
Entertainment
Exercise Classes –Sit and Be Fit Tuesdays 10:30am
Foot Care Clinic
Informational Workshops
Lending Library
Line Dancing
Lunches –Monday through Friday 11:45am
Newsletters
Painting Classes –Wednesdays 9:00am
Pool Table & League –Thursdays 1:00pm (check calendar for locations)
Potlucks
Quilting –Mondays 10:00am
Table Games –Mah Jong, Euchre, Pinochle (check calendar for more information)
Trips – Domestic & International
Wii Bowling-  Thursdays 10:00am and Fridays 8:30am
Dates and Times of activities are subject to change. Be sure to look at our Monthly Newsletter for more information. You can also call the center at (231) 757-4705 or email Rhonda Remer at activities@scottvilleseniorcenter.com.
Support Groups (currently suspended due to SASC temporarily closing)
Grandparents Raising Grandchildren: Meets at Senior Center the 3rd Wednesday at 5:30 pm, with occasional excursions and group activities. Open to all kinship caregivers raising young relatives. Separate, supervised activities for kids while adults discuss a monthly topic with guest speakers. Meal provided for all.
Parkinson's Support Group: Meets at Senior Center the 3rd Wednesday from 1:00pm – 2:00pm, April through November.
Monthly Activity Calendar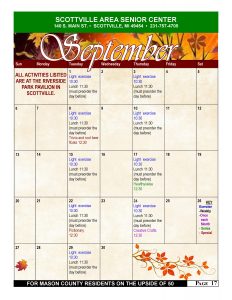 Click to enlarge